Group: Trekaroo Superoo 2013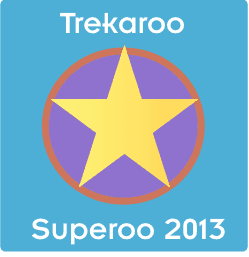 Welcome 2013 Superoos!

Some of us are veteran Superoos while others are brand new. Yet, we share one thing in common. We love exploring with our kids and we can't stop talking about it! This exclusive group of Trekaroo's most adventuresome and savvy travel families was handpicked by our Superoo Council. All of us share a common unfettered passion for exploring with our kids and helping other families do the same through writing helpful reviews, sharing photos that speak a thousand words, and creating lists of our recommendations.

Superoo Perks:

Since your opinions are highly valued, hotels, restaurants, attractions and other business owners will often offer to host you so you can experience their family-friendly offerings first hand. Our Destination Guroos and Editors will be managing all of those assignments. They will be posting opportunities on this group page as they come up. Please respond promptly if you're interested.

When selecting which Superoo should represent Trekaroo for an assignment, Destination Guroos weigh very heavily the quality of your reviews. We also favor Superoos who are regularly involved in the life of our community. Here are some Writing Tips in case you need a little reminder about what we think makes an excellent review. Maintaining an active and impressive Superoo passport is something we all take pride in.